DVET Branding Guidelines
Knowledge (represented by book) and Skill (represented by tools) writing the future of Maharashtrian (Person) and Maharashtra thus ensuring the prosperity of the candidate (represented by helmet) and making Make in Maharashtra vision (represented by Make in Maharashtra Lamp) a reality. Skill is Strength.
Introduction to the Guideline
For DVET logo to be memorable and have the desired recall value, it is imperative that it be reproduced across several media of communication in a consistent manner. The DVET logo is available for use by Institutions that are associated with DVET. When citizens see this identity being used by your educational institution, they will immediately recognize that you have been authorized by DVET to teach Vocational and Training courses at your institution. Protecting the integrity of the DVET logo by using it consistently and correctly is essential to creating and maintaining a strong worldwide brand identity. It expands your standing as a closely aligned leading Vocational education provider, an identity from which we all benefit. This document provides guidelines for correctly using the DVET logo.
The guidelines have been developed to significantly improve and standardize the visual presentation and application of the logo of Directorate of Vocational Education and Training (DVET).
DVET has provided four Logo options for use. The 3 Logos are available both in high and Low resolution formats. According to the place you intend to use, you may make a choice of the Logo resolution. Also, there is 1 option for color and 2 for Black and White representations.
These logos should only be implemented on the institution's print or online creative, such as collateral and Websites. The DVET logo should never compete visually with other graphic elements.
The DVET logo should always be large enough to ensure legibility. To ensure that the logo is prominent and readable at reduced sizes, please observe the preferred size requirement.
The preferred size is measured by the width of DVET. In printed materials, the DVET portion of the logo must be no less than 2.50cms in height. When displayed onscreen, the DVET portion of the logo must be no less than 130 pixels in height.
Color and Background Usage
Black-and-white option for specific applications, such as newspaper advertising. The color logo on a white background is always preferred. Using the logo on black or dark backgrounds is acceptable but not recommended. Most importantly, make sure the DVET logo is always legible.
This logo is used for associated institution's printed collateral or Website to indicate that the institution is associated with DVET.
The DVET logo must appear as equally predominant as any other third-party trademarks.
The DVET logo must always be accompanied by your institution's logo when placed in merchandising materials. Please adhere to a size that shows legible text.
While using DVET logo in combination with institution/other logos, keep the DVET logo on the right side.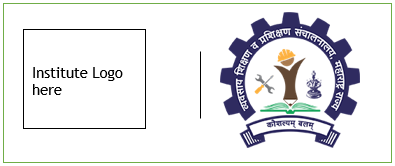 Design and usage standards ensure that the DVET logo is instantly recognizable. However, wherever the logo is used, you must follow brand guidelines carefully and avoid unauthorized variations such as those displayed at below. Skewed logo, and logo with dark background, does not form a good representation of the DVET brand and should not be used.

Source: DVET Branding Guidelines, Version 4.0 approved on 16-07-2018